For a recent little holiday get together party I decided to make a new dessert. This like most of my "ideas" lately this came from Pinterest. Link to the original pin/source
HERE
and
HERE
. Normally oreos aren't my thing. They're okay but not my store bought cookie of choice. In fact I pretty much never buy store bought cookies. I suppose if I did I'd buy milanos or some bakery cookie. Eh. Anyway this came straight out of left field and while everyone else said they loved it I was secretly thinking they were lying. The final result was just okay. I thought it was sickeningly sweet (which is a lot for me because I never say that!) and interestingly textured.
All the soldiers lined up. Half ready for chunk style crumbs, half for dusting crumbs.
Basically you break up and pulverize a lot of the cookies for the outside crumb coating. My food processor was down (now kinda fixed! yay!) so I used a blender. It worked fine and we got nice dark crumbs.
Then you combine
1 package softened cream cheese,
1 cup nonfat dry milk,
1 tsp vanilla &
4 cups powdered sugar. Use a hand blender to combine all and wisk away! Weird, sticky texture. Add chunks of oreo cookies and
refrigerate
. After a couple hours you can make balls with it and roll them around in the crumb coating mix. I used colored red/green/white sprinkles for added festive flair!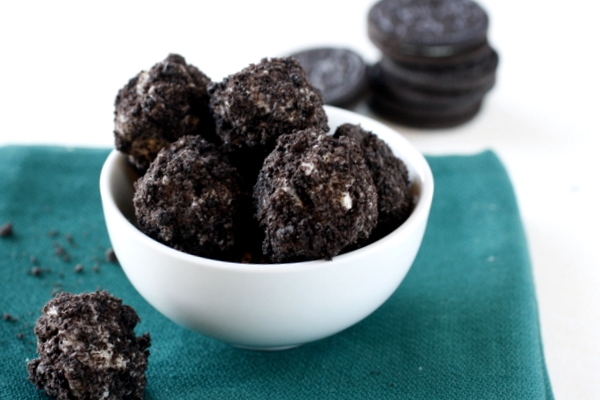 original source photo - way better than my final result!